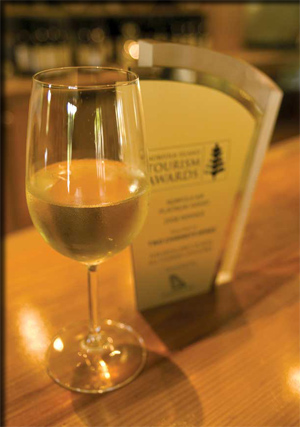 In 2007 Two Chimneys Wines won their category in the Inaugural Norfolk Island Tourism Awards.
In 2008 they won their category and were also awarded with "Norfolk Air Platinum Award" for excellence across all categories. Tourism Champions for 2008.
In 2009 Two Chimneys again won their category and were the first to be inducted into the "Hall of Fame" (This award makes them exempt from entering any categories for years to follow.)
Two Chimneys Wines are unique not only for being the only Vineyard/Cellar Door/Winery in Norfolk Island but also for their total commitment to sharing the experience.
Past Awards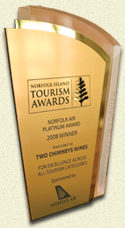 - 2009 HALL of FAME
- 2009 GOLD AWARD
- 2008 PLATINUM AWARD
(Excellence across All Categories. Tourism Champions)
- 2008 GOLD AWARD
- 2007 GOLD AWARD